Episode 10
Why are we writing an episode on accessibility?
Digital technologies are an increasingly important resource in many aspects of life: education, employment, government, commerce, health care, recreation, and more. It is essential that these be accessible in order to provide equal access and equal opportunity to people with diverse abilities. Access to information and communications technologies, including the Web, is defined as a basic human right in the United Nations Convention on the Rights of Persons with Disabilities (UN CRPD).
Accessibility supports social inclusion for people with disabilities as well as others, such as:
older people;
people in rural areas; and
people in developing countries.
Accessible design improves overall user experience and satisfaction, in a variety of situations, across different devices, and for older users. Accessibility can enhance your service delivery, drive innovation, and extend your reach.
To learn more read: The Business Case for Digital Accessibility
How Does Accessibility Affect Our Lives?
Meet Maayan Ziv, a  disabled Toronto resident who has developed an app, "Access Now". The app uses crowd sourcing to collect and share accessible spots around the world, giving mobility-challenged people the freedom to find ways to do what they want. Note: This video contains profane language.
What Does Office of Public Service Accessibility Do?
The Office of Public Service Accessibility, was created in August of 2018 to establish the public service of Canada as the gold standard of an accessible and inclusive workplace. With the appointment of the first ever deputy minister responsible for accessibility for the government of Canada, OPSA is setting the conditions for the public service of Canada to identify, prevent, and remove barriers to participation for persons with disabilities. OPSA has a strategy: Prepare the public service to lead by example and become a model of accessibility for others, in Canada and abroad.
Transcript

So office, which is called the Office of Public Service Accessibility, was created in August of 2018 with the appointment of the first ever deputy minister responsible for accessibility for the government in Canada. And that is really evidence that the government has committed to becoming a leader and a model for accessibility in the context of Bill C81. So Bill C81 is the Accessible Canada Act, now before the house. We're very hopeful that it will receive Royal Assent before the house rises at the end of June.And Bill C81 really sets the stage. It's the first-ever accessibility legislation in Canada and it sets the stage for all federally regulated entities to really eliminate and avoid the creation of barriers to accessibility for Canadians with disabilities. So for us here at TBS, we are developing a Public Service Accessibility Strategy which is the roadmap for federal organizations… federal departments and agencies to prepare to meet or exceed the requirements under Bill C81.The Public Service Accessibility Strategy has five goals so… five areas:One is employment – recruitment, retention and promotion of employees with disabilities.Second is access to the built environment so our buildings, whether they're just for internal use within the public service or spaces that the public has access to.Third is information and communications technology so to ensure that all government digital content and applications are accessible and usable by all Canadians including employees of the government in Canada.Number four is equipping public servants to provide accessible programs and services.The last goal, and not the least, is to create a disability or accessibility confident public service. So a public service that is an inclusive workplace that creates the condition for all to succeed including employees with disabilities.And I think the key difference with this legislation, and certainly with our Public Service Accessibility Strategy, is that it really is built on engagement of people with disabilities. So the principle that is included in the convention the UN Convention on the Rights of persons with disabilities which says "nothing about us without us" means that people with disability have to be engaged, have to be part of the decisions, have to be asked for feedback, have to be part of the strategies to measure progress on accessibility. And that is true for the legislation and it is definitely true in the development of the Public Service Accessibility Strategy.I am blind and so I use a screen reading software which is a piece of software that is installed on my tablet that reads out loud everything that's on my screen and it allows me to navigate and to perform… it should allow me to perform anything that you do with a mouse with my keyboard basically. So it is, I think, one of the… probably the best screen reading software that exists out there. So it's a really good piece of software that has been improved significantly over the years.However, I don't think there's a week that goes by that I don't call the IT support because I'm encountering some issue. Most of the time it's about compatibility of my screen reading software with either an application that I'm using or a website or with changes that are made to IT policies that make it difficult for me to, for example, perform some actions only through the keyboard. And that's really the issue. For example, you know, I need to be able to anything you do with your mouse with the keyboard. If some of these actions can only be performed using a mouse then I can have the best screen reader in the universe, it's still going to have… I'm still going to encounter accessibility issues.And so that's why, in terms of making the workplace inclusive for people with disabilities, we not only have to think about oh do you need any what I call gadgets, any adaptive technique or technology to make, to help you work better? You also need the systems, the business practices, the work environment to be designed for inclusivity, to be designed for accessibility, so that everybody can contribute to their best and be productive.The involving users with disabilities and making sure that you test, you know, for accessibility is also really important. So that we are able to catch issues as they arise rather than wait until everything is done, all the decisions are made, all the money spent and all of a sudden it goes out to either to the public or internally within the public service and somebody, you know, emails back and says "oh this is not accessible." So I think that's really, really the most important message that I could give is: let's make sure that we think about accessibility along the entire design, planning, design, development, testing and implementation of any digital whether it's content such as web pages, or documents, or whether it's applications
How Might We Build a More Inclusive Public Service?
Government departments like Canadian Digital Service (CDS), design for accessibility early and often. Recently, they hosted a panel of public servants with disabilities  to build awareness within our multidisciplinary teams (developers, designers, communication specialists, product managers, and policy folks). Panel participants included people with motor, vision, hearing, neurological, and invisible disabilities. Their input, perspectives, and discussion around the barriers and challenges they face when using government services have been critically important to their work.  One of the panel members provided this unexpected feedback:
"My hearing aid is bluetooth enabled but my work phone is not bluetooth enabled." – Angele from ESDC.
"Every individual uses their own approach to best meet their needs. There are no average or "normal" users." Our intent is to share this research with the broader government community to build a more inclusive Public Service." – Juliana Rowsell from CDS.
Meet Julianna Rowsell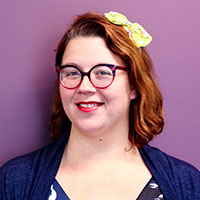 I am outspoken. I advocate and push boundaries for accessibility. If we in the public service don't push, nothing can change. We need more education in government  on what barriers exist by including persons with disabilities throughout the discovery, design, development and delivery of a product or service.
Julianna shares things you can do to help build more inclusive and accessible services:
Do the research
Conversations with people with disabilities can spark unexpected feedback. Doing design research with people with disabilities helps define the problem space and informs the understanding of user needs. It also improves the human experience of digital services and serves to inform all aspects of design, development, and delivery.
Co-create
Co-creation leads to better, more inclusive services by directly supporting people with disabilities. It ensures a holistic approach to accessibility and inclusion and embeds a sense of belonging that goes further than simply participating in activities, events and workspaces.
Raise awareness
By building capacity in delivery teams and raising awareness of accessibility and inclusive principles, we create a more inclusive environment for everyone. How we work together, interact, and communicate are key to building inclusive environments that encourage the participation and sense of belonging of people with disabilities.
If you are a public servant with a disability, and are interested in participating in research on building a more inclusive public service, please reach out Julie-Ann.Rowsell@tbs-sct.gc.ca
Conclusion
"By developing Canada's first accessibility strategy for the federal public service, our government is helping create the most inclusive public service in the world. This is an important step in enabling the Government of Canada to set and meet high standards of accessibility in its policies, programs and services to all Canadians. It's a strategy that reflects the true diversity of the people it serves and one that will help us achieve our ultimate goal: a barrier-free Canada where everyone is fully included." - The Honourable Carla Qualtrough, Minister of Public Services and Procurement and Accessibility
Learn more about accessibility
Infographic: The Accessible Canada Act
Digital Standards Playbook – Build in Accessibility from the Start
Translation Bureau Accessibility Glossary
Accessible Design Helps Everyone
WC3 Strategies, standards, resources to make the Web accessible to people with disabilities
Video: Disability Inclusion in the Public Service of Canada: An Introduction