We often hear "let's get digital" but what does it really mean? How does a large department like Public Services and Procurement Canada (PSPC) – with over 17,000 employees – make this happen? First off, let's just say it's not an overnight process but well worth the effort when we see the positive impacts on employees and the people using our services.
"Let's get digital" is more than simply digitizing or automating processes. It's about transforming the user experience in the services we deliver. It's about putting the user front and centre in the work we do  and adopting new behaviours and ways of working.
'Let's Get Digital' is about transforming the user experience.
To inspire employees and help them imagine our digital future, we created "Julie's Future Story."
Our lessons learned…and counting
I'd like to share how we're tackling getting digital at PSPC and what we've learned along the way with the caveat that digital transformation is definitely not a one-size-fits-all approach. Our approach is ever-evolving as we try new things and learn what works and doesn't. And, most importantly, we continue to learn from others.
These are some of our lessons learned in the hope it can save you valuable time:
Digital transformation is not a side-of-the-desk process – it requires resources and commitment from the top.
Identify sponsors – senior management "cheerleaders" – who can help remove roadblocks and facilitate change.
One size does not fit all. Flexibility is where it's at.
Users first. Users first. Users first.
Don't jump to solutions too quickly, but do a deep dive into the problem you're trying to solve.
Be agile. Make small changes. Iterate. Learn. Improve. Repeat.
Don't reinvent the wheel – collaborate with other branches, government departments and external experts. Chances are the perfect "wheel" is already out there.
Multi-disciplinary teams are the way to go and speed up the process.
Designing with users every step of the way

Just because pension issues can be complex, doesn't mean our pension portal needs to be.
Right now, for example, we're helping the Government of Canada's pension program  redesign its pension portal – a compensation web application used by current employees of the public service, the RCMP and the Canadian Armed Forces. Pension issues can be complex but this doesn't mean our pension portal needs to be.
The first thing our Human-Centred Design Office and the Pension team did was put together a multidisciplinary team including experts in pension, user experience, design, accessibility, technology and more.
Next, we talked to the users – about 50 of them from across government. And we didn't just talk, we watched and listened during hour-long sessions where each user interacted with the pension portal. They told us what they were experiencing, the good, and the not so good.
The information we gathered was illuminating and invaluable. It allowed us to create "personas" – different types of users of the pension portal – and "journey maps " capturing their experiences and pain points along the way.
The personas – 3 typical users of the pension portal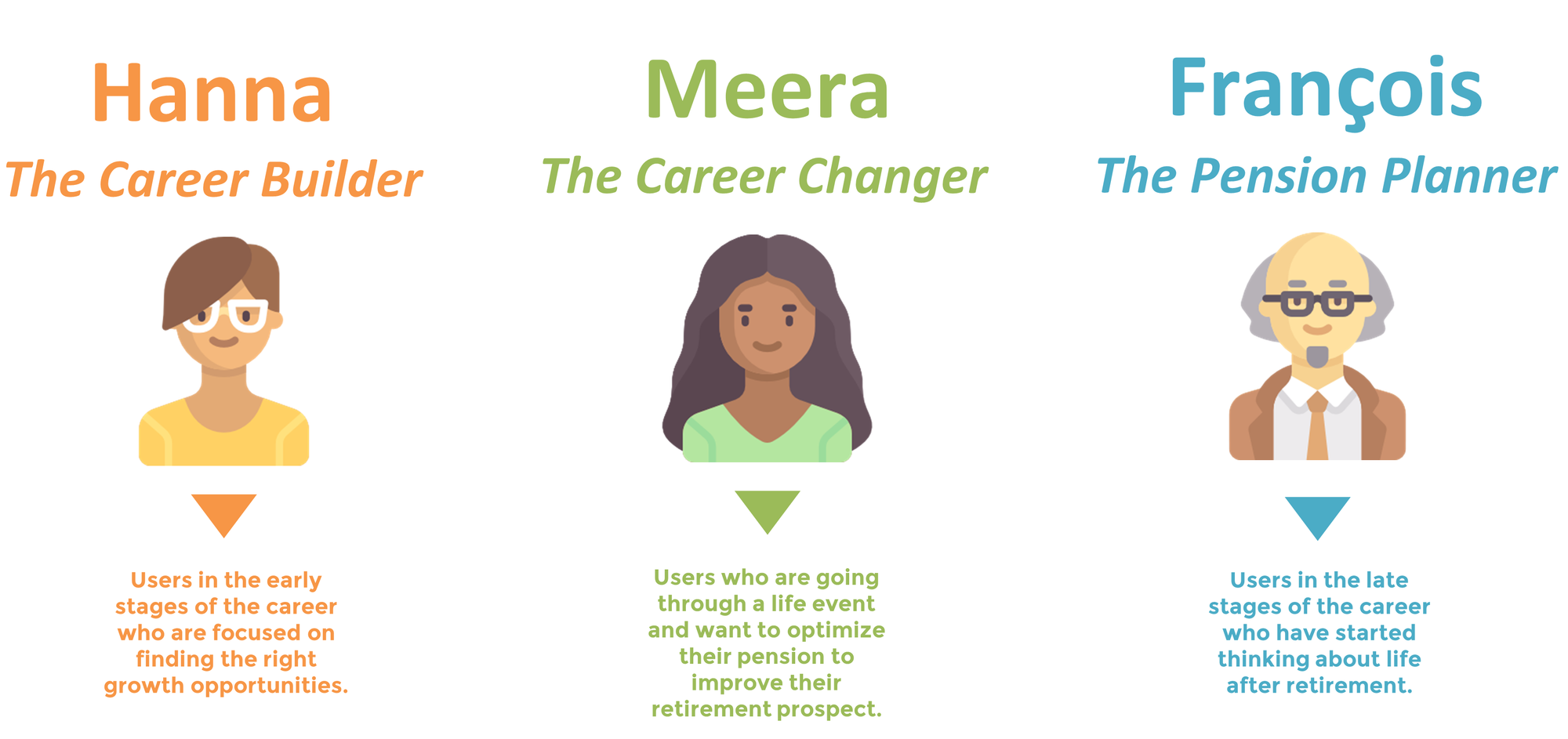 Meet François, who is getting closer to retirement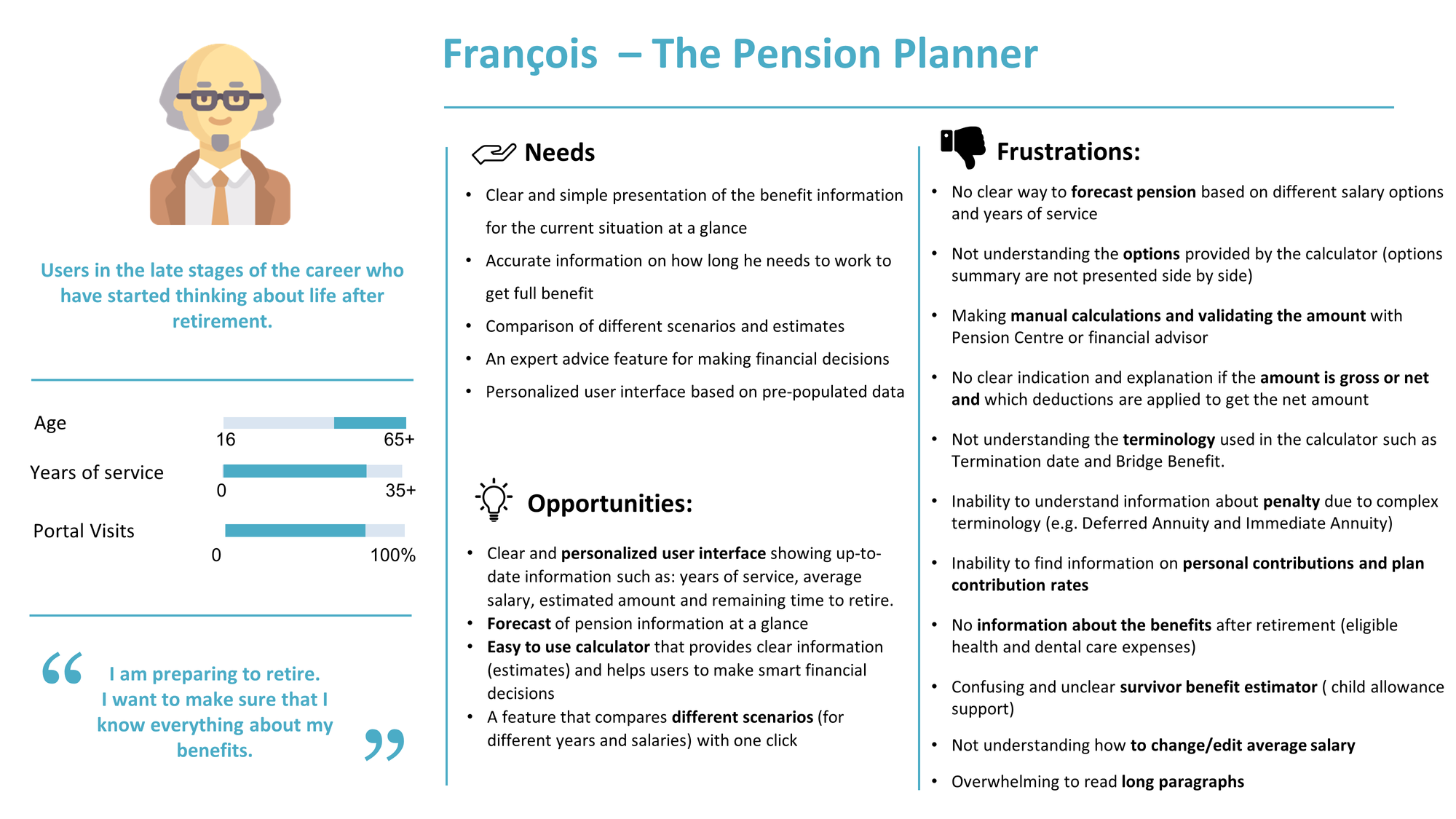 See François's journey map as he uses the pension portal to plan for retirement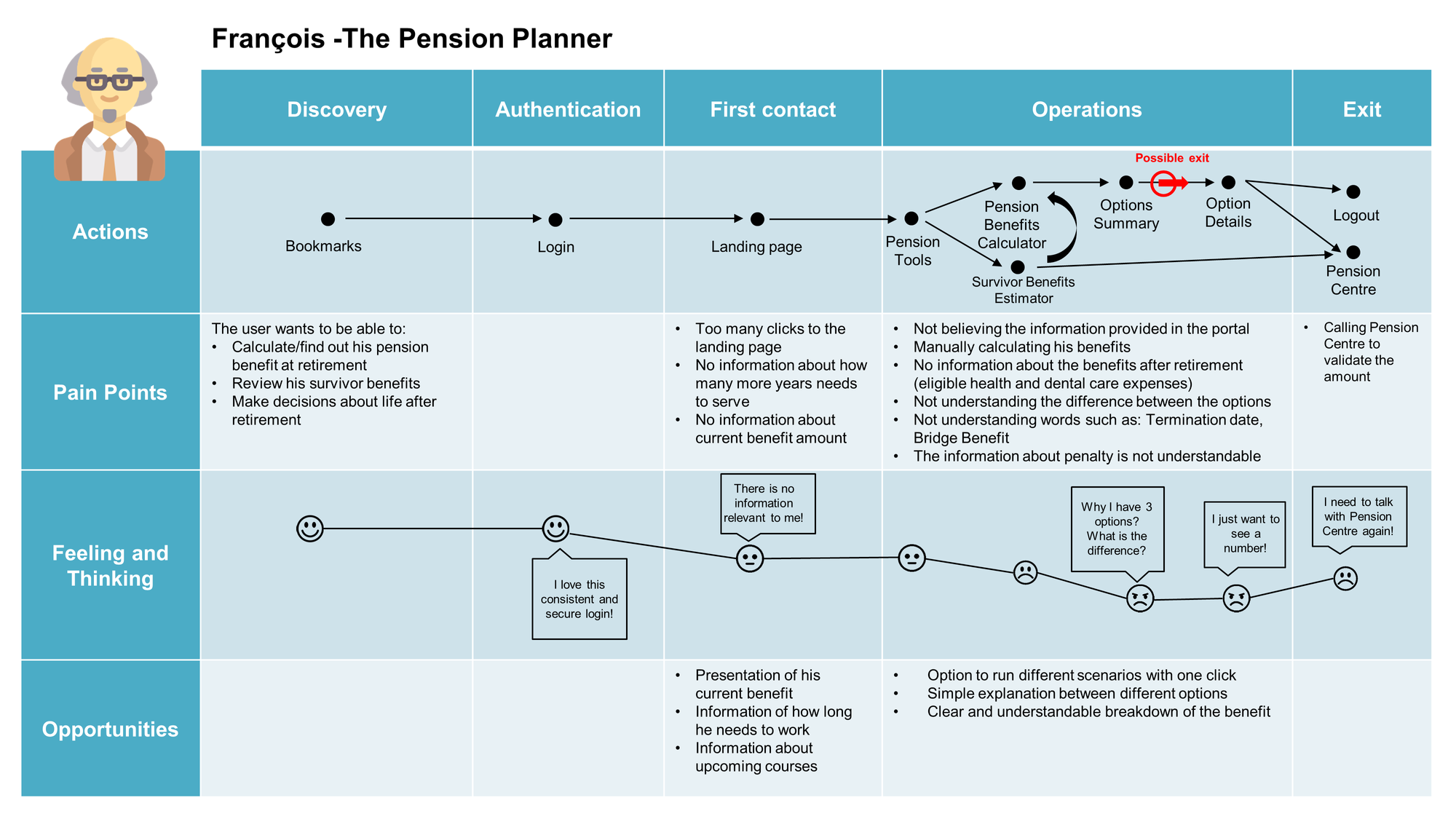 Once our multi-disciplinary team of experts understood our users' needs and challenges, we moved to the design phase and kept it agile. We created prototypes and involved our users, and accessibility experts, every step of the way. We tested new designs with them, iterated based on their feedback and tested again.
Our latest prototype provides a highly personalized experience for users. The system recognizes who they are when they log in, and brings up their key information in an interface that is intuitive, uses plain language and is easy to use. The team designed it to meet user needs and help them make important life decisions about their pensions and retirement.
Next up, is expanding the pension portal with a section for retirees from the Government of Canada, where they can easily access their pension information.
We are looking forward to the final phase of this journey when an end product is developed, tested and retested, and launched by the Pension team. Stay tuned!
What else are we doing to get digital?

We've launched new innovation services to help encourage digital transformation across the department and make it stick. We're showing by doing, refining as we go and celebrating each win.
To support this transformative work, we launched the "Digital Innovation Network," a virtual network of experts, labs and tools from across PSPC. This network provides a safe space for teams to come together to work with our user experience and digital experts. They are able to innovate, experiment, create prototypes, test new solutions with users, fail fast and learn fast and do it all over again.
We realized, for example, that when a team at PSPC wants to test out new software or technology to improve a service to clients, it can take months to procure these essential items and the digital landscape has already changed. We've shut down the waiting game with our Exploration Lab  – a virtual sandbox where teams can access the latest software and equipment to rapidly test and prototype in an unclassified computing environment, including cloud services.
We've also learned that poor services can result from poorly defined business problems. Teams often come to us with a solution in mind already and we get them to take a few steps back to do a deep dive into the real problem they're trying to solve. Our Idea Exploration Hub facilitates workshops to help teams reframe the problem by putting themselves in the users' shoes, and then quickly explore ideas and innovative solutions together.
These are just some of our new services. I invite you to visit PSPC's Digital Transformation Collaboration site (internal to GC) to learn more about PSPC's digital transformation journey and the enablers we've put in place to help us along the way.
We'd love to hear what you think, to collaborate together and to learn from your experiences in "getting digital". You can contact us by email or through PSPC's Digital Transformation Collaboration site (internal to GC).
Learn more about PSPC's digital innovation journey
Job Aid
Digital Academy Courses