Episode 4
The Digital Academy offers three streams of learning: Digital Foundations, Premium, and Leadership. Our colleague Isa has been working on designing and curating some learning products for the Foundations stream.
A vast terrain
When we think about foundational digital skills, what usually comes to mind is learning how to use technology. But, digital is also about having an open and curious mindset that continuously seeks out opportunities to learn more about innovations ways to work smarter and provide better services.
Richard, on the other hand, is working on linkages between the Digital Foundations stream and the Leadership stream.  Leaders will also have to learn digital foundations, and will have a crucial role in making sense of it all as we align our collective efforts to improve the services we provide.
How do these streams meet when it comes to foundational learning?
Let's start with core competencies, regrouped into 3 categories: personal, interpersonal, and organizational competencies. How do those core competencies apply to leadership roles?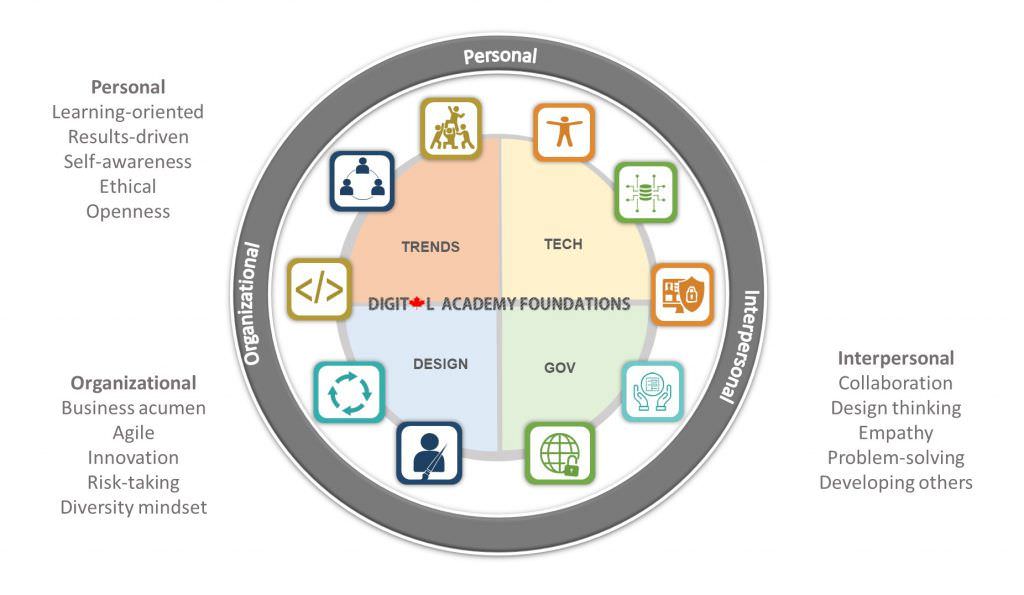 A state of mind focused on diversity
You will notice above that some elements are familiar leadership competencies. It is often said that "going digital is more about people than it is about technology. It should be no surprise then that recognized leadership competencies are simply applied to the digital context. A strong foundation in those areas will be essential for leaders, whose foresight will shape the path towards a future and culture we need to create.
The inner layer consists of digital skills that stem from the core competencies: The ten icons here represent the Government of Canada Digital Standards. These standards guide us as public servants, as government, when we design services and processes. They're an important part of this framework.
At the leadership level, the digital standards will become a frame of reference, guiding projects along, and likely  becoming a means test on whether or not we have done our homework.
Really, many of the digital standards could be applied to a non-digital environment. There're just effective ways to collaborate and involve users in defining services for the future. Whether they will be digital or not doesn't really matter. The quality of the outcome is what matters.
And from the Academy's perspective, the digital standards represent a great number of opportunities in terms of foundational learning.
Learning opportunities in digital standards
Category 1: Trends
This category of learning encompasses learning about new and emerging tools, learning about trends and innovations around the globe, in public and private sectors, other jurisdictions, and within federal departments as well. It's important to learn from others, to know what's happening "out there", and to keep an eye out for seeds of innovation.
Each of us has to put his or her antennas up and be aware of these trends. It is not the sole responsibility of leadership to tell us what's going on -we all have a role to play. Leaders may have to be a bit more alert when considering these trends and how they may affect us, and this should help making sense of the direction that the government is taking.
Category 2: Technology
You've probably noticed: there are a lot of technologies that can help us do our job better, and provide better services: artificial intelligence, machine learning, augmented and virtual reality, new coding languages, just to name a few. Most public servants probably think these technologies don't apply to them.
False.
If you've ever tried to help a family member fill out a government form, you probably found the experience as frustrating and confusing as they did. What if we could make processes a lot easier, and give people a much better user experience? These various technologies can help us designing better services.
In the minds of many, artificial intelligence is still linked to sci-fi, or something that would be part of a future a long way ahead. In reality, artificial intelligence is already here! There are already some instances of artificial intelligence being used in some of the projects in government, and it's only the beginning. Leaders need to think about technology as it is now, and as where it will be, make sense of it, and anticipate how to adapt to it.
Category 3: Design
We're not talking about graphic design here, but the thinking and methods we use to design services, processes, policies and how they need to be more user centered. Design means using more structured approaches, like design thinking, user experience design, and usability testing, for example, to make sure we are inclusive and more accessible. "Agile design", a term that might evoke images of creative teams of loose cannons for some, falls into this category. As a matter of fact agile design consists of rigorous processes and methods.
Category 4: Government
Yes, we work in government. It's a context that we cannot lose sight of. We have security, privacy and compliance obligations. We need to give serious consideration to how we comply and meet requirements in those areas while designing innovative means to provide services.
We're accountable to Canadians, and people expect to have great services. We can't lose sight of the public service role. But it doesn't mean we have to do it alone. We need to reach out to other sectors of society. And we need to be collaborative and transparent in doing so.
---
Listen to the podcast
Podcast (SoundCloud) on "Two lenses on Digital Foundations".