Episode 13
Everyone is guessing. The skills required for many of today's jobs are not necessarily those that will be central to tomorrow's requirements and opportunities.
At the Canada School of Public Service (CSPS)  Digital Academy, we all come to work every day because we want to help Public Servants solve the biggest problem we face today in government: how to keep pace with the digital transformation happening around us.
For those of you who are new to the site, our mission with Busrides.ca is to broaden and deepen digital literacy. We want to give all public servants a basic and shared conceptualization of a Government of Canada 'digital' lens before they move on to our other CSPS and Digital Academy offerings.
We are learning too
Busrides  was born in October 2018. While it was conceived as a place that Public Servants could learn about all things digital, it quickly became our way to apply and test the Government of Canada's Digital Standards. Here is what we learned:
Build in accessibility from the start
Services should meet or exceed accessibility standards. Users with distinct needs should be engaged from the outset to ensure what is delivered will work for everyone.
Through the development of our early episodes, we learned what being accessible really meant. Through trial and error, we found out that accessibility is more than just meeting the Web Content Accessibility Guidelines (WCAG).  Accessibly takes in to account "invisible disabilities" such as color blindness, cognitive, mental health or chronic pain-related and age-related impairments such as low vision, low hearing or cognitive impairments.  Most people will encounter a temporary disability at least once in their lives due to illness or injury which impacts how they may interact with web-based content. While we still have work to do, we are working with our partners at Canadian Digital Service (CDS) and engaging the Office of Public Service Accessibility to redesign Busrides with accessibility and inclusiveness in mind.

Collaborate widely
Create multidisciplinary teams with the range of skills needed to deliver a common goal. Share and collaborate in the open. Identify and create partnerships that help deliver value to users.
Busrides has to be a team effort.  No one member of our team can do this alone.  We have UX designers, developers and subject matter experts working with us at every turn. Instructional designers are leaned on to make sure we identify the right learning objectives and present them in ways that foster learning.  We rely heavily on our communications experts at the Digital Academy and CSPS to leverage the right communication channels to reach you, our audience. We ask for help. A lot of help. Thank you.

Iterate and improve frequently
Develop services using agile, iterative and user-centered methods. Continuously improve in response to user needs. Try new things, start small and scale-up.
It is okay to try. Our first episode wasn't perfect. Neither was our second, or our third, nope not the fourth either...  but each one is a little better than the one before it.  With every new episode, we learned a little bit more about our users  and ourselves.
Design with users
Research with users to understand their needs and the problems we want to solve. Conduct ongoing testing with users to guide design and development.
As more people visited the site we realized in order to give them a great experience we had to learn more about them. What were they interested in? Were they looking at busrides.ca from a mobile device or were they at their office? Where were they getting their information about digital transformation in government now? Did they want to read, watch or listen to the content? We had SO MANY QUESTIONS.
So we asked 297 learners and this is what we found out:
Participants learn at the office, followed by home and then mobile
Participants preferred to learn by watching videos, reading various resources and learning by doing
Participants expressed an interest in learning more about Data, AI, Design and  Development
Resources need to be quick, concise, informative and engaging
Takeaways and concrete examples (in the Government of Canada context) were important to participants
Participants wanted the busrides platform to be easy to navigate and accessible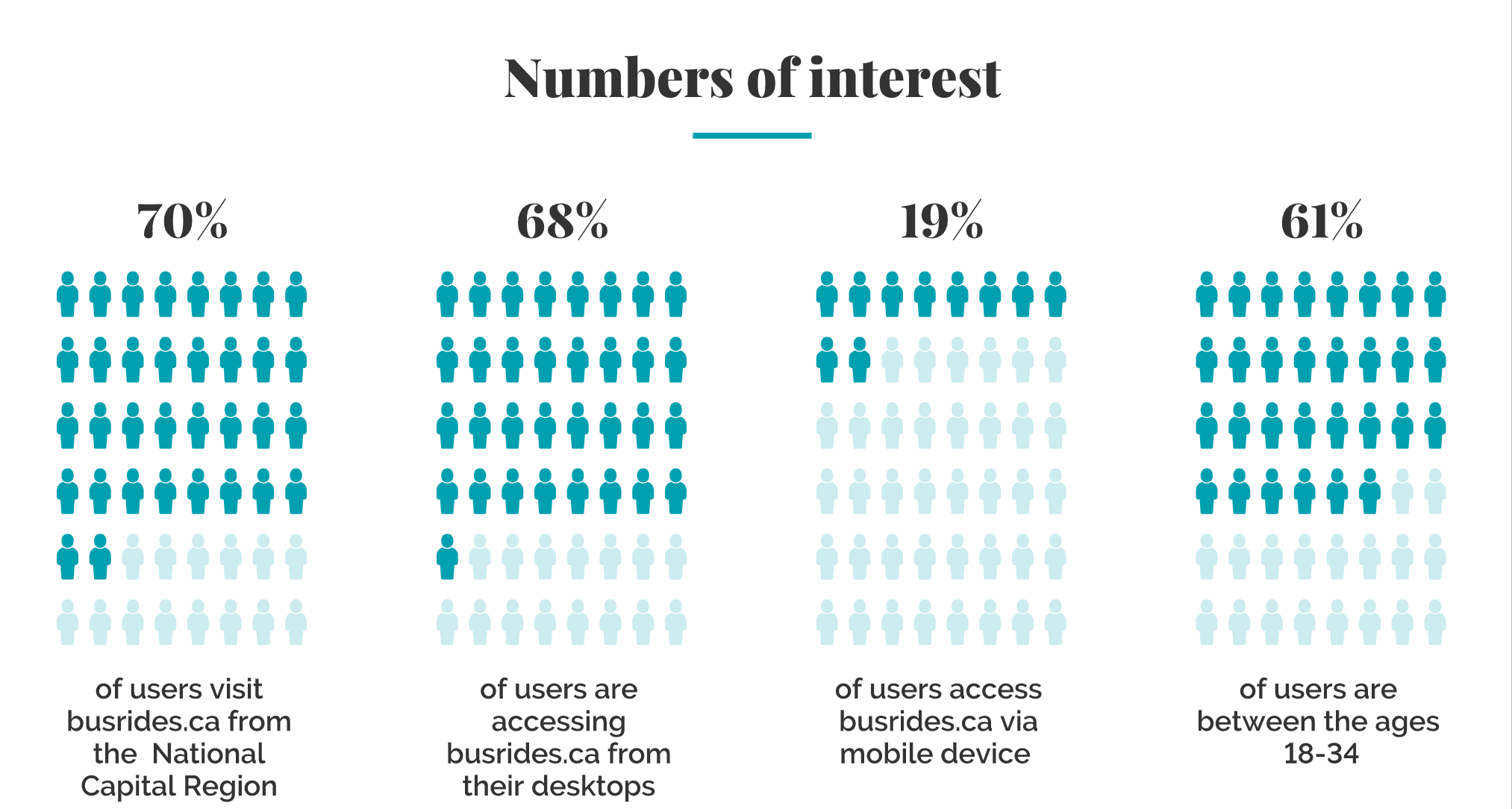 How are we applying what we learned?
We are developing and testing a new open-source platform for Busrides. This platform is still in beta mode and we want to test it with users to ensure we get the experience right. If you would like to help us out, join the Digital Academy Research Panel.  
Learners told us they are busy and that time is an issue. We have designed each episode around short learning objectives on digital topics that appeal to multiple learning styles. These episodes are not intended to develop hard skills, but to recognize the potential application and utility of digital skills in the Government of Canada. We will point to other Digital Academy courses, events, videos and resources that you can come back to should you want to take your learning journey further on a particular topic.
We are using DATA to inform our decision making and drive content development.
We are reaching out to public servants from coast to coast. As you saw above, 70% of people checking out busrides are located in the National Capital Region. We want to build on that!
Finally, by providing tangible takeaways, busrides promotes a collaborative learning culture and encourages learners to share their experiences with peers in an informal manner.
What's next?
On November 4th, 2019 we are launching a series on how digital transformation is impacting virtual teams in the Government of Canada. We will explore topics such as:  What are the challenges in starting a virtual team in the public service? How are teams and departments testing it? What are the complexities once the team is up and running? We'll showcase federal, provincial and academic teams that are already working this way and how they got there, outlining steps you can take right now to spark the change on your team, list numerous ways to improve the remote team you're already part of.
Busrides: Where #MyDigitalJourney Begins.